OUR AIM IS TO HELP CREATE THAT MAGICAL SPARK FOR YOUR EVENT
Dhol Division are one of UK's leading brands in Asian wedding and events entertainment.
Offering a professional and personal service, with packages that are tailored to suit our customers. This helps to ensure that each event is unique and subjective to our individual customer requirements. We aim to deliver an elaborate and magical experience allowing the whole party to enjoy the special occasion.
In todays multicultural society, our events management team will work with you to meet all of your specific cultural requirements, whether these are traditional or modern. We aim to cater for all cultures from Asian to Western and mixed cultural marriages.
Our elite team of dhol players (drummers), known as Dhol Division have over 10 years of experience and provide a entertaining service, where guests not only hear, but feel the beats, bring the event to life.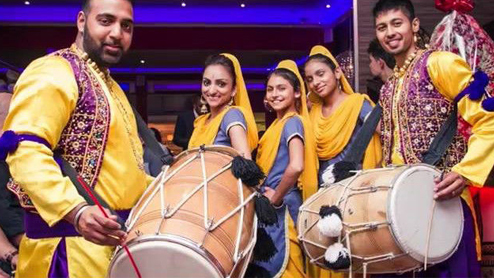 Our dhol players are Ideal for bride & groom wedding venue entrances, arrival of the bharaat (groom), performances alongside DJs, singers and other musicians.
Our exclusively selected team of experienced Asian DJ's are renowned worldwide and play from various genres of music such as Bollywood, Bhangra, Gurba, Dance, RNB, Garage, Bashment and many more...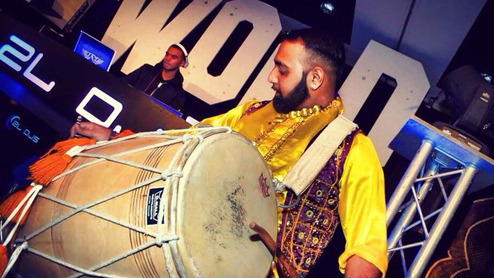 LET US HELP CREATE YOUR SPECIAL OCCASION
Why not have a unique entertainment act at your event? Check out the Bhangra Mascots using the link below.
We cover all areas within the UK and Worldwide, such as Apsley, Aston, Amsterdam, Bath, Batley, Barcelona, Bilston, Birmingham, Blackburn, Bradford, Brighton & Hove, Bristol, Burton, Bucks, Buckinghamshire, Cambridge, Canterbury, Cardiff, Carlisle, Chelmsford, Chester, Crewe, Coventry, Croyden, Derby, Dewsbury, Dudley, Dubai, Essex, Essington, Exeter, England, Glasgow, Gloucester, Harrow, Hants, Harrowgate, Hertfordshire, Halifax, Handsworth, Herts, Hereford, Heathrow, Hilltop, Hull, Hutton, Kent, Kingston, Lancaster, Leeds, Leicester, Leicestershire, Lichfield, Lincoln, Liverpool, London, Luton, Madrid, Manchester, Middlesex, Milton Keynes, Newcastle, Newport, Newark, Norwich, Nottingham, Oxon, Oslo, Oxford, Oldbury, Paris, Poundon, Peterborough, Perry Barr, Plymouth, Portsmouth, Preston, Purley, Ripon, Reading, Rugby, St Albans, Salford, Sailsbury, Scotland, Sheffield, Shrewsbury, Skegness, Smethwick, Somerset, Southampton, Southall, Slough, Stoke, Stafford, Staffordshire, Stoke-on-Trent, Suffolk, Sunderland, Swansea, Telford, Tipton, Warwick, Warwickshire, Wakefield, Wakes, Walsall, Westminster, West Midlands, West Bromwich, Winchester, Wolverhampton, Worcester, Wordsley, York, Yorkshire. Please feel free to obtain a tailored quotation.